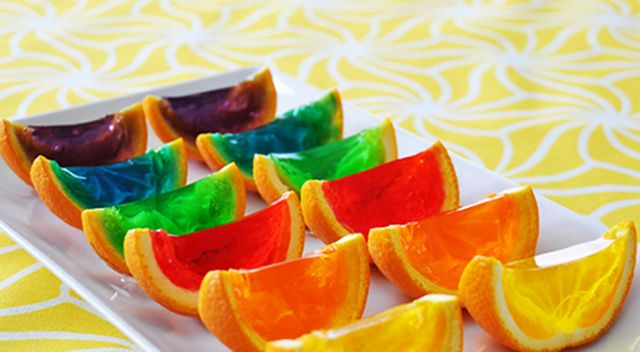 RECIPE WEDNESDAY with MINKPINK


JELLO TIME!
It's always a rainbow party here at MINKPINK and these are right up there on the rainbow recipes list! Basically because they are so easy and so very pretty. These jelly orange slices would be so easy to make as jello shots too... just saying!!
Perfect snack for those summer days ... ahhh *sigh*
Here is the recipe! Make some for the weekend and tell us how you go!



You will need:

9 small to medium oranges
6 boxes of jelly/jello, one in each of the 6 rainbow colours
Water to make jelly
Instructions:
1. Wash your oranges and cut in half. Scoop out the fruit or juice those babies up!
2. Your orange cups are ready! Place the cups in a muffin tin to keep upright.
3. start making your Jelly according to the packet and fill up your orange cups!
4. Let them set them slice them up! Super easy for a picnic in the sun... just be careful when slicing! You don't want to squish your jello...oh!
Images: Onetreatatatime.blogspot.com